The Final Night of Racing for the 2023 season is set for Saturday, September 2nd

As Bidenomics kicks into full force, we are forced to make changes. None of us like this as our freedoms are being jeopardized. We will have better racing days ahead.

For Legit Speedway's track photographers page please CLICK HERE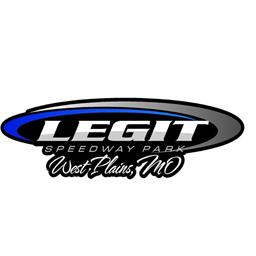 7/22/2023 - Legit Speedway Park
West Plains, MO
Ralph Burnett Memorial Presented By Doug Collins Trucking LLC.
$1,000/win Super Late Models plus Truckers Appreciation and weekly racing
All Weekly Classes Running
-Holiday Inn Express Sport Mods
-Scaggs Repair Hobby Stocks
-Billy Sexton Auctions Sportsman Late Models
-Mayfield Auto Repair Super Stocks
-Reliable Chevrolet A-Mods
-Checkered Flag Truck Repair Super Late Models
Scaggs Repair Hobby Stock

15 entries

Holiday Inn Express Sport Mod

15 entries

Mayfield Auto Repair Super Stocks

11 entries

Sportsman Late Model

9 entries

Reliable Chevrolet A-Mod

16 entries

Checkered Flag Truck Repair Super Late Models

13 entries
Full Event Information on MyRacePass
Scaggs Repair Hobby Stock
Finish
Start
#
Competitor
Hometown
+/-
1
6
R9
Chuck Russell West Plains, MO
West Plains, MO
5
2
3
18
Landon Clinton Willow Springs, MO
Willow Springs, MO
1
3
8
88M
Damon Mayfield West Plains, MO
West Plains, MO
5
4
2
93
John Stiner West Plains, MO
West Plains, MO
-2
5
7
88
Darren Fox Mtn. Grove, MO
Mtn. Grove, MO
2
6
12
8
Duane Wake West Plains, MO
West Plains, MO
6
7
4
33H
Kaleb Herring Hardy, AR
Hardy, AR
-3
8
1
2
Kevin Collins West Plains, MO
West Plains, MO
-7
9
9
27
Steve Buchinsky West Plains, MO
West Plains, MO
-
10
10
56
Kenny Carroll West Plains, MO
West Plains, MO
-
11
13
8W
Nick Weaver Paragould, AR
Paragould, AR
2
12
11
98
Kevin May Jr Pomona, MO
Pomona, MO
-1
13
15
01
TJ Miller Ava, MO
Ava, MO
2
14
5
07
Jessie Shearin West Plains, MO
West Plains, MO
-9
DNS
14
62
Shannon Clinton Willow Springs, MO
Willow Springs, MO
-
Finish
Start
#
Competitor
Hometown
+/-
1
1
07
Jessie Shearin West Plains, MO
West Plains, MO
-
2
6
18
Landon Clinton Willow Springs, MO
Willow Springs, MO
4
3
2
2
Kevin Collins West Plains, MO
West Plains, MO
-1
4
3
88
Darren Fox Mtn. Grove, MO
Mtn. Grove, MO
-1
5
4
27
Steve Buchinsky West Plains, MO
West Plains, MO
-1
6
7
98
Kevin May Jr Pomona, MO
Pomona, MO
1
7
5
8W
Nick Weaver Paragould, AR
Paragould, AR
-2
8
8
01
TJ Miller Ava, MO
Ava, MO
-
All transfer
Finish
Start
#
Competitor
Hometown
+/-
1
1
R9
Chuck Russell West Plains, MO
West Plains, MO
-
2
5
33H
Kaleb Herring Hardy, AR
Hardy, AR
3
3
7
93
John Stiner West Plains, MO
West Plains, MO
4
4
6
88M
Damon Mayfield West Plains, MO
West Plains, MO
2
5
2
56
Kenny Carroll West Plains, MO
West Plains, MO
-3
6
4
8
Duane Wake West Plains, MO
West Plains, MO
-2
DNS
3
62
Shannon Clinton Willow Springs, MO
Willow Springs, MO
-
All transfer
Holiday Inn Express Sport Mod
Finish
Start
#
Competitor
Hometown
+/-
1
1
4G
Aiden Tackitt Viola, AR
Viola, AR
-
2
2
5
Josh Krusen West Plains, MO
West Plains, MO
-
3
7
X2M
Cole Murphy Caulfield, MO
Caulfield, MO
4
4
4
24
Lonnie Sitzes West Plains, MO
West Plains, MO
-
5
3
10N
Cam Norris Searcy, AR
Searcy, AR
-2
6
6
7V
Jim Vincent West Plains, MO
West Plains, MO
-
7
8
6
Bobby Bryant West Plains, MO
West Plains, MO
1
8
10
88
Rusty Rosson Mountain Home, AR
Mountain Home, AR
2
9
14
93
Anthony Croney West Plains, MO
West Plains, MO
5
10
13
10
James Hinrichs Ava, MO
Ava, MO
3
11
5
7F
Dakota Frost West Plains, MO
West Plains, MO
-6
12
9
7
Korey Whitelock West Plains, MO
West Plains, MO
-3
13
11
30
Steven Zuchowski West Plains, MO
West Plains, MO
-2
DNS
12
7G
Benny Grogan West Plains, MO
West Plains, MO
-
DNS
15
17K
Jodie Aitken West Plains, MO
West Plains, MO
-
Finish
Start
#
Competitor
Hometown
+/-
1
2
4G
Aiden Tackitt Viola, AR
Viola, AR
1
2
5
10N
Cam Norris Searcy, AR
Searcy, AR
3
3
4
7F
Dakota Frost West Plains, MO
West Plains, MO
1
4
6
X2M
Cole Murphy Caulfield, MO
Caulfield, MO
2
5
1
7
Korey Whitelock West Plains, MO
West Plains, MO
-4
6
3
30
Steven Zuchowski West Plains, MO
West Plains, MO
-3
7
8
10
James Hinrichs Ava, MO
Ava, MO
1
8
7
17K
Jodie Aitken West Plains, MO
West Plains, MO
-1
All transfer
Finish
Start
#
Competitor
Hometown
+/-
1
1
5
Josh Krusen West Plains, MO
West Plains, MO
-
2
5
24
Lonnie Sitzes West Plains, MO
West Plains, MO
3
3
6
7V
Jim Vincent West Plains, MO
West Plains, MO
3
4
7
6
Bobby Bryant West Plains, MO
West Plains, MO
3
5
4
88
Rusty Rosson Mountain Home, AR
Mountain Home, AR
-1
6
3
7G
Benny Grogan West Plains, MO
West Plains, MO
-3
7
2
93
Anthony Croney West Plains, MO
West Plains, MO
-5
All transfer
Mayfield Auto Repair Super Stocks
Finish
Start
#
Competitor
Hometown
+/-
1
1
22
Bub Duncan Alton, MO
Alton, MO
-
2
6
G1
Tony Anglin Walnut Ridge, AR
Walnut Ridge, AR
4
3
5
12
Justin Jarrett Maynard, AR
Maynard, AR
2
4
7
23N
Chris Junkersfeld Pocahontas, AR
Pocahontas, AR
3
5
8
94
Elmo Floyd Russellville, AR
Russellville, AR
3
6
2
4G
Jesse Tackitt Viola, AR
Viola, AR
-4
7
9
55
Bobby Skinner Moody, MO
Moody, MO
2
8
4
27S
Will Smart West Plains, MO
West Plains, MO
-4
9
3
66
Skyler Cochran West Plains, MO
West Plains, MO
-6
DNS
10
35XXX
John Kelly Birch Tree, MO
Birch Tree, MO
-
DNS
11
26M
Donnie Miller West Plains, MO
West Plains, MO
-
Finish
Start
#
Competitor
Hometown
+/-
1
1
12
Justin Jarrett Maynard, AR
Maynard, AR
-
2
2
66
Skyler Cochran West Plains, MO
West Plains, MO
-
3
3
22
Bub Duncan Alton, MO
Alton, MO
-
4
4
23N
Chris Junkersfeld Pocahontas, AR
Pocahontas, AR
-
5
6
55
Bobby Skinner Moody, MO
Moody, MO
1
6
5
26M
Donnie Miller West Plains, MO
West Plains, MO
-1
All transfer
Finish
Start
#
Competitor
Hometown
+/-
1
1
G1
Tony Anglin Walnut Ridge, AR
Walnut Ridge, AR
-
2
2
27S
Will Smart West Plains, MO
West Plains, MO
-
3
4
4G
Jesse Tackitt Viola, AR
Viola, AR
1
4
3
94
Elmo Floyd Russellville, AR
Russellville, AR
-1
5
5
35XXX
John Kelly Birch Tree, MO
Birch Tree, MO
-
All transfer
Sportsman Late Model
Finish
Start
#
Competitor
Hometown
+/-
1
1
07
Tony Anglin Walnut Ridge, AR
Walnut Ridge, AR
-
2
3
13
Brandon Baldridge Alton, MO
Alton, MO
1
3
4
65
Riley Moore Bernie, MO
Bernie, MO
1
4
2
78
Brad Ball
-2
5
6
X2M
Cole Murphy Caulfield, MO
Caulfield, MO
1
6
8
51M
Blaine Mattey Mountain Home, AR
Mountain Home, AR
2
7
5
2
Kevin Collins West Plains, MO
West Plains, MO
-2
8
7
93
Jay Croney West Plains, MO
West Plains, MO
-1
9
9
6
Tim Steinhaus Mtn. Home, AR
Mtn. Home, AR
-
Finish
Start
#
Competitor
Hometown
+/-
1
1
13
Brandon Baldridge Alton, MO
Alton, MO
-
2
3
07
Tony Anglin Walnut Ridge, AR
Walnut Ridge, AR
1
3
2
2
Kevin Collins West Plains, MO
West Plains, MO
-1
4
4
93
Jay Croney West Plains, MO
West Plains, MO
-
DNS
5
6
Tim Steinhaus Mtn. Home, AR
Mtn. Home, AR
-
All transfer
Finish
Start
#
Competitor
Hometown
+/-
1
3
65
Riley Moore Bernie, MO
Bernie, MO
2
2
4
78
Brad Ball
2
3
2
X2M
Cole Murphy Caulfield, MO
Caulfield, MO
-1
4
1
51M
Blaine Mattey Mountain Home, AR
Mountain Home, AR
-3
All transfer
Reliable Chevrolet A-Mod
Finish
Start
#
Competitor
Hometown
+/-
1
2
10
Brandon Walsh Ash Flat, AR
Ash Flat, AR
1
2
4
73W
Shawn Walsh Ash Flat, AR
Ash Flat, AR
2
3
1
2SLY
Shane Kelley Imboden, AR
Imboden, AR
-2
4
6
76
Shawn Knuckles Ellsinore, MO
Ellsinore, MO
2
5
9
32N
Mark Norris Searcy, AR
Searcy, AR
4
6
3
9
Dustin Tiger West Plains, MO
West Plains, MO
-3
7
8
21
Grayson Moore Jonesboro, AR
Jonesboro, AR
1
8
5
X22M
Devin Murphy Myrtle, MO
Myrtle, MO
-3
9
10
27JR
Garrett Taylor Jacksonville, AR
Jacksonville, AR
1
10
12
10T
Mark Tackitt Bakersfield, MO
Bakersfield, MO
2
11
7
D97
Daryl Hay DONIPHAN, MO
DONIPHAN, MO
-4
12
11
3T
Ben Tackitt Viola, AR
Viola, AR
-1
DNS
13
35E
Luke Aitken West Plains, MO
West Plains, MO
-
DNS
14
28K
Jamel Korkis Cave City, AR
Cave City, AR
-
DNS
15
27B
Matt Barry West Plains, MO
West Plains, MO
-
DNS
16
27F
Austin Floyd Searcy, AR
Searcy, AR
-
Finish
Start
#
Competitor
Hometown
+/-
1
5
9
Dustin Tiger West Plains, MO
West Plains, MO
4
2
6
2SLY
Shane Kelley Imboden, AR
Imboden, AR
4
3
1
X22M
Devin Murphy Myrtle, MO
Myrtle, MO
-2
4
7
D97
Daryl Hay DONIPHAN, MO
DONIPHAN, MO
3
5
4
32N
Mark Norris Searcy, AR
Searcy, AR
-1
6
8
3T
Ben Tackitt Viola, AR
Viola, AR
2
7
2
35E
Luke Aitken West Plains, MO
West Plains, MO
-5
DNS
3
27B
Matt Barry West Plains, MO
West Plains, MO
-
All transfer
Finish
Start
#
Competitor
Hometown
+/-
1
3
73W
Shawn Walsh Ash Flat, AR
Ash Flat, AR
2
2
5
10
Brandon Walsh Ash Flat, AR
Ash Flat, AR
3
3
6
76
Shawn Knuckles Ellsinore, MO
Ellsinore, MO
3
4
4
21
Grayson Moore Jonesboro, AR
Jonesboro, AR
-
5
2
27JR
Garrett Taylor Jacksonville, AR
Jacksonville, AR
-3
6
7
10T
Mark Tackitt Bakersfield, MO
Bakersfield, MO
1
7
1
28K
Jamel Korkis Cave City, AR
Cave City, AR
-6
8
8
27F
Austin Floyd Searcy, AR
Searcy, AR
-
All transfer
Checkered Flag Truck Repair Super Late Models
Finish
Start
#
Competitor
Hometown
+/-
1
4
93
Mason Oberkramer Broseley, MO
Broseley, MO
3
2
1
3
Joey Smith West Plains, MO
West Plains, MO
-1
3
3
11C
Sawyer Crigler Alton, MO
Alton, MO
-
4
6
29
Keith Hammett Brookland, AR
Brookland, AR
2
5
7
33
Kaleb Stolba Willow Springs, MO
Willow Springs, MO
2
6
5
5
Austin Vincent Moody, MO
Moody, MO
-1
7
8
91
Chris Jones Neelyville, MO
Neelyville, MO
1
8
9
11
Robby Moore Poplar Bluff, MO
Poplar Bluff, MO
1
9
10
99
Todd Hall Charleston, MO
Charleston, MO
1
10
11
15
John Aitken West Plains, MO
West Plains, MO
1
11
2
12
Scott Crigler Alton, MO
Alton, MO
-9
DNS
12
11J
Steve Johnson Joplin, MO
Joplin, MO
-
DNS
13
14R
Jeff Roth Bentonville, AR
Bentonville, AR
-
Finish
Start
#
Competitor
Hometown
+/-
1
2
3
Joey Smith West Plains, MO
West Plains, MO
1
2
6
11C
Sawyer Crigler Alton, MO
Alton, MO
4
3
3
5
Austin Vincent Moody, MO
Moody, MO
-
4
7
33
Kaleb Stolba Willow Springs, MO
Willow Springs, MO
3
5
5
11
Robby Moore Poplar Bluff, MO
Poplar Bluff, MO
-
6
1
15
John Aitken West Plains, MO
West Plains, MO
-5
DNS
4
14R
Jeff Roth Bentonville, AR
Bentonville, AR
-
All transfer
Finish
Start
#
Competitor
Hometown
+/-
1
1
12
Scott Crigler Alton, MO
Alton, MO
-
2
5
93
Mason Oberkramer Broseley, MO
Broseley, MO
3
3
6
29
Keith Hammett Brookland, AR
Brookland, AR
3
4
4
91
Chris Jones Neelyville, MO
Neelyville, MO
-
5
3
99
Todd Hall Charleston, MO
Charleston, MO
-2
DNS
2
11J
Steve Johnson Joplin, MO
Joplin, MO
-
All transfer