Our 2022 Season is Complete
Thank you to all racers, race families, fans, and sponsors for a great 2022 race season.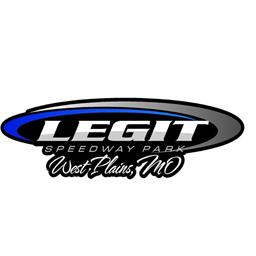 8/27/2022 - Legit Speedway Park
West Plains, MO
Ralph Burnett Memorial Presented By Doug Collins Trucking LLC.
Truckers Appreciation Night. All Class A License holders get in to the grandstands Free.
Skaggs Repair Hobby Stock

14 entries

Holiday Inn Express Sport Mod

9 entries

Westgate Realty Sportsman Late Model

11 entries

Checkered Flag Truck Repair Super Late Models

8 entries

Reliable Chevrolet IMCA Modified

22 entries

Mayfield Auto Repair POWRi Super Stocks

14 entries
Full Event Information on MyRacePass
Skaggs Repair Hobby Stock
Finish
Start
#
Competitor
Hometown
+/-
1
1
93
John Stiner West Plains, MO
West Plains, MO
-
2
5
2
Kevin Collins West Plains, MO
West Plains, MO
3
3
6
R9
Chuck Russell West Plains, MO
West Plains, MO
3
4
8
9H
Kaleb Herring Hardy, AR
Hardy, AR
4
5
11
79
Corey Lambert West Plains, MO
West Plains, MO
6
6
4
07
Jessie Shearin West Plains, MO
West Plains, MO
-2
7
10
88
Darren Fox Mtn. Grove, MO
Mtn. Grove, MO
3
8
2
8
Duane Wake West Plains, MO
West Plains, MO
-6
9
12
55
Chris Skinner Moody, MO
Moody, MO
3
10
7
56
Andy Collins West Plains, MO
West Plains, MO
-3
11
14
N8
Nathan McQuitty West Plains, MO
West Plains, MO
3
12
9
27M
Damon Mayfield West Plains, MO
West Plains, MO
-3
13
3
113
Chance Cotter Mtn Home, AR
Mtn Home, AR
-10
14
13
4T
Mark Tackitt Bakersfield, MO
Bakersfield, MO
-1
Finish
Start
#
Competitor
Hometown
+/-
1
4
2
Kevin Collins West Plains, MO
West Plains, MO
3
2
1
113
Chance Cotter Mtn Home, AR
Mtn Home, AR
-1
3
5
93
John Stiner West Plains, MO
West Plains, MO
2
4
2
56
Andy Collins West Plains, MO
West Plains, MO
-2
5
6
27M
Damon Mayfield West Plains, MO
West Plains, MO
1
6
7
79
Corey Lambert West Plains, MO
West Plains, MO
1
DNS
3
4T
Mark Tackitt Bakersfield, MO
Bakersfield, MO
-
All transfer
Finish
Start
#
Competitor
Hometown
+/-
1
2
R9
Chuck Russell West Plains, MO
West Plains, MO
1
2
3
07
Jessie Shearin West Plains, MO
West Plains, MO
1
3
1
8
Duane Wake West Plains, MO
West Plains, MO
-2
4
6
9H
Kaleb Herring Hardy, AR
Hardy, AR
2
5
5
88
Darren Fox Mtn. Grove, MO
Mtn. Grove, MO
-
6
4
55
Chris Skinner Moody, MO
Moody, MO
-2
7
7
N8
Nathan McQuitty West Plains, MO
West Plains, MO
-
All transfer
Holiday Inn Express Sport Mod
Finish
Start
#
Competitor
Hometown
+/-
1
1
2
Aiden Tackitt Viola, AR
Viola, AR
-
2
3
88
Rusty Rosson Mountain Home, AR
Mountain Home, AR
1
3
6
4
Jeremy Evans Squires, MO
Squires, MO
3
4
7
15
Justice Bennett West Plains, MO
West Plains, MO
3
5
8
7S
Lonnie Sitzes West Plains, MO
West Plains, MO
3
6
4
9H
Danny Hinrichs Ava, MO
Ava, MO
-2
7
2
7T
Dana Tiger Moody, MO
Moody, MO
-5
8
5
X2M
Cole Murphy Caulfield, MO
Caulfield, MO
-3
DNS
9
17W
Dean Wilder DONIPHAN, MO
DONIPHAN, MO
-
Finish
Start
#
Competitor
Hometown
+/-
1
4
X2M
Cole Murphy Caulfield, MO
Caulfield, MO
3
2
2
88
Rusty Rosson Mountain Home, AR
Mountain Home, AR
-
3
3
2
Aiden Tackitt Viola, AR
Viola, AR
-
4
1
15
Justice Bennett West Plains, MO
West Plains, MO
-3
5
5
17W
Dean Wilder DONIPHAN, MO
DONIPHAN, MO
-
All transfer
Westgate Realty Sportsman Late Model
Finish
Start
#
Competitor
Hometown
+/-
1
1
62
Landon Clinton Willow Springs, MO
Willow Springs, MO
-
2
3
07
Tony Anglin Walnut Ridge, AR
Walnut Ridge, AR
1
3
9
65
Robby Moore Broseley, MO
Broseley, MO
6
4
7
19S
Hunter Duren Yellville, AR
Yellville, AR
3
5
5
13
Brandon Baldridge Alton, MO
Alton, MO
-
6
2
78
Brad Ball
-4
7
4
51M
Blaine Mattey Mountain Home, AR
Mountain Home, AR
-3
8
8
31
Justin Kraft West Plains, MO
West Plains, MO
-
9
6
14JR
Ethan Rushin Poplar Bluff, MO
Poplar Bluff, MO
-3
10
11
13P
Ben Piper West Plains, MO
West Plains, MO
1
DNS
10
72
Jeremy Roth Desoto, MO
Desoto, MO
-
Finish
Start
#
Competitor
Hometown
+/-
1
1
62
Landon Clinton Willow Springs, MO
Willow Springs, MO
-
2
2
07
Tony Anglin Walnut Ridge, AR
Walnut Ridge, AR
-
3
4
13
Brandon Baldridge Alton, MO
Alton, MO
1
4
6
19S
Hunter Duren Yellville, AR
Yellville, AR
2
5
3
65
Robby Moore Broseley, MO
Broseley, MO
-2
6
5
13P
Ben Piper West Plains, MO
West Plains, MO
-1
All transfer
Finish
Start
#
Competitor
Hometown
+/-
1
4
78
Brad Ball
3
2
1
51M
Blaine Mattey Mountain Home, AR
Mountain Home, AR
-1
3
2
14JR
Ethan Rushin Poplar Bluff, MO
Poplar Bluff, MO
-1
4
5
31
Justin Kraft West Plains, MO
West Plains, MO
1
5
3
72
Jeremy Roth Desoto, MO
Desoto, MO
-2
All transfer
Checkered Flag Truck Repair Super Late Models
Finish
Start
#
Competitor
Hometown
+/-
1
4
5
Austin Vincent Moody, MO
Moody, MO
3
2
5
11C
Sawyer Crigler Alton, MO
Alton, MO
3
3
2
49
Justin Wells AURORA, MO
AURORA, MO
-1
4
1
33
Kaleb Stolba Willow Springs, MO
Willow Springs, MO
-3
5
6
2J
David Jumper House Springs, MO
House Springs, MO
1
6
7
21
DJ Burke West Plains, MO
West Plains, MO
1
7
3
11M
Robby Moore Broseley, MO
Broseley, MO
-4
8
8
13
Joey Smith Pomona, MO
Pomona, MO
-
Finish
Start
#
Competitor
Hometown
+/-
1
1
11M
Robby Moore Broseley, MO
Broseley, MO
-
2
3
33
Kaleb Stolba Willow Springs, MO
Willow Springs, MO
1
3
2
11C
Sawyer Crigler Alton, MO
Alton, MO
-1
4
4
21
DJ Burke West Plains, MO
West Plains, MO
-
All transfer
Reliable Chevrolet IMCA Modified
Finish
Start
#
Competitor
Hometown
+/-
1
9
73
Shawn Walsh Ash Flat, AR
Ash Flat, AR
8
2
11
0NE
Jeff Taylor Batesville, AR
Batesville, AR
9
3
2
X2M
Carl Murphy Caulfield, MO
Caulfield, MO
-1
4
12
9S
Ken Schrader Fenton, MO
Fenton, MO
8
5
10
9H
Brint Hartwick Quitman, AR
Quitman, AR
5
6
3
9
Dustin Tiger West Plains, MO
West Plains, MO
-3
7
7
2SLY
Shane Kelley Imboden, AR
Imboden, AR
-
8
15
28
JIM GREENWAY Galena, MO
Galena, MO
7
9
1
14
Camden Cotter Mtn. Home, AR
Mtn. Home, AR
-8
10
21
X22M
Devin Murphy Myrtle, MO
Myrtle, MO
11
11
14
4G
Garry Tackitt Viola, AR
Viola, AR
3
12
17
93
Jay Croney West Plains, MO
West Plains, MO
5
13
20
33
Danny Martin Republic, MO
Republic, MO
7
14
19
28K
Jamel Korkis Cave City, AR
Cave City, AR
5
15
13
41
Kanyan Methuin Yellville, AR
Yellville, AR
-2
16
22
73G
Joey Gee Bald Knob, AR
Bald Knob, AR
6
17
5
1
Chadd Avery Judsonia, AR
Judsonia, AR
-12
18
4
21W
John Waugh Batesville, AR
Batesville, AR
-14
19
18
18W
Roger Witt Batesville, AR
Batesville, AR
-1
20
16
13M
Matt Arnold
-4
21
8
9JR
Spencer Hartwick Quitman, AR
Quitman, AR
-13
22
6
10
Brandon Walsh Ash Flat, AR
Ash Flat, AR
-16
Finish
Start
#
Competitor
Hometown
+/-
1
2
X2M
Carl Murphy Caulfield, MO
Caulfield, MO
1
2
6
9H
Brint Hartwick Quitman, AR
Quitman, AR
4
3
1
14
Camden Cotter Mtn. Home, AR
Mtn. Home, AR
-2
4
5
9JR
Spencer Hartwick Quitman, AR
Quitman, AR
1
5
3
41
Kanyan Methuin Yellville, AR
Yellville, AR
-2
6
7
13M
Matt Arnold
1
7
8
28K
Jamel Korkis Cave City, AR
Cave City, AR
1
8
4
73G
Joey Gee Bald Knob, AR
Bald Knob, AR
-4
All transfer
Finish
Start
#
Competitor
Hometown
+/-
1
4
10
Brandon Walsh Ash Flat, AR
Ash Flat, AR
3
2
3
21W
John Waugh Batesville, AR
Batesville, AR
1
3
5
73
Shawn Walsh Ash Flat, AR
Ash Flat, AR
2
4
6
0NE
Jeff Taylor Batesville, AR
Batesville, AR
2
5
1
4G
Garry Tackitt Viola, AR
Viola, AR
-4
6
2
93
Jay Croney West Plains, MO
West Plains, MO
-4
7
7
33
Danny Martin Republic, MO
Republic, MO
-
All transfer
Finish
Start
#
Competitor
Hometown
+/-
1
2
9
Dustin Tiger West Plains, MO
West Plains, MO
1
2
4
2SLY
Shane Kelley Imboden, AR
Imboden, AR
2
3
6
9S
Ken Schrader Fenton, MO
Fenton, MO
3
4
3
1
Chadd Avery Judsonia, AR
Judsonia, AR
-1
5
7
28
JIM GREENWAY Galena, MO
Galena, MO
2
6
5
18W
Roger Witt Batesville, AR
Batesville, AR
-1
7
1
X22M
Devin Murphy Myrtle, MO
Myrtle, MO
-6
All transfer
Mayfield Auto Repair POWRi Super Stocks
Finish
Start
#
Competitor
Hometown
+/-
1
1
22
Lonnie Duncan Alton, MO
Alton, MO
-
2
5
26M
Donnie Miller West Plains, MO
West Plains, MO
3
3
6
18
Landon Clinton Willow Springs, MO
Willow Springs, MO
3
4
13
G1
Tony Anglin Walnut Ridge, AR
Walnut Ridge, AR
9
5
7
X2M
Carl Murphy Caulfield, MO
Caulfield, MO
2
6
4
27S
Will Smart West Plains, MO
West Plains, MO
-2
7
8
23N
Jase Nelson Pocahontas, AR
Pocahontas, AR
1
8
10
B9
Bob Johnson Eugene, OR
Eugene, OR
2
9
14
35D
Herman Kelly Birch Tree, MO
Birch Tree, MO
5
10
9
164
Michael Muskrat Stillwell, OK
Stillwell, OK
-1
11
12
94
Elmo Floyd Russellville, AR
Russellville, AR
1
12
2
1
Mark Tackitt Bakersfield, MO
Bakersfield, MO
-10
13
3
12
Justin Jarrett Maynard, AR
Maynard, AR
-10
DNS
11
66
Skyler Cochran West Plains, MO
West Plains, MO
-
Finish
Start
#
Competitor
Hometown
+/-
1
1
26M
Donnie Miller West Plains, MO
West Plains, MO
-
2
2
12
Justin Jarrett Maynard, AR
Maynard, AR
-
3
4
22
Lonnie Duncan Alton, MO
Alton, MO
1
4
7
X2M
Carl Murphy Caulfield, MO
Caulfield, MO
3
5
5
164
Michael Muskrat Stillwell, OK
Stillwell, OK
-
6
3
B9
Bob Johnson Eugene, OR
Eugene, OR
-3
DNS
6
94
Elmo Floyd Russellville, AR
Russellville, AR
-
All transfer
Finish
Start
#
Competitor
Hometown
+/-
1
2
18
Landon Clinton Willow Springs, MO
Willow Springs, MO
1
2
6
27S
Will Smart West Plains, MO
West Plains, MO
4
3
3
1
Mark Tackitt Bakersfield, MO
Bakersfield, MO
-
4
5
23N
Jase Nelson Pocahontas, AR
Pocahontas, AR
1
5
7
35D
Herman Kelly Birch Tree, MO
Birch Tree, MO
2
6
4
66
Skyler Cochran West Plains, MO
West Plains, MO
-2
7
1
G1
Tony Anglin Walnut Ridge, AR
Walnut Ridge, AR
-6
All transfer