The Final Night of Racing for the 2023 season is set for Saturday, September 2nd

As Bidenomics kicks into full force, we are forced to make changes. None of us like this as our freedoms are being jeopardized. We will have better racing days ahead.

For Legit Speedway's track photographers page please CLICK HERE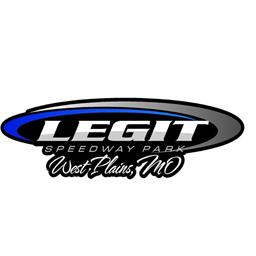 7/2/2022 - Legit Speedway Park
West Plains, MO
Firecracker Classic Night 3 $5,000/Win POWRi Super Stocks
Huge Fireworks Display, Firecracker Classic Main Event.
Scaggs Repair Hobby Stock

14 entries

Checkered Flag Truck Repair Super Late Models

9 entries

Reliable Chevrolet IMCA Modified

12 entries

Mayfield Auto Repair POWRi Super Stocks

22 entries
Full Event Information on MyRacePass
Scaggs Repair Hobby Stock
Finish
Start
#
Competitor
Hometown
+/-
1
3
2
Kevin Collins West Plains, MO
West Plains, MO
2
2
1
R9
Chuck Russell West Plains, MO
West Plains, MO
-1
3
5
93
John Stiner West Plains, MO
West Plains, MO
2
4
4
07
Jessie Shearin West Plains, MO
West Plains, MO
-
5
6
79
Corey Lambert West Plains, MO
West Plains, MO
1
6
8
55
Chris Skinner Moody, MO
Moody, MO
2
7
11
56
Andy Collins West Plains, MO
West Plains, MO
4
8
2
88
Darren Fox Mtn. Grove, MO
Mtn. Grove, MO
-6
9
10
06
Tommy Epps Mountain Home, AR
Mountain Home, AR
1
10
7
9H
Kaleb Herring Hardy, AR
Hardy, AR
-3
11
9
8
Duane Wake West Plains, MO
West Plains, MO
-2
12
14
27
Steve Buchinsky West Plains, MO
West Plains, MO
2
13
12
N8
Nathan McQuitty West Plains, MO
West Plains, MO
-1
DNS
13
17
Kylee Lasater Leachville, AR
Leachville, AR
-
Finish
Start
#
Competitor
Hometown
+/-
1
2
2
Kevin Collins West Plains, MO
West Plains, MO
1
2
5
R9
Chuck Russell West Plains, MO
West Plains, MO
3
3
6
93
John Stiner West Plains, MO
West Plains, MO
3
4
3
9H
Kaleb Herring Hardy, AR
Hardy, AR
-1
5
4
8
Duane Wake West Plains, MO
West Plains, MO
-1
6
1
06
Tommy Epps Mountain Home, AR
Mountain Home, AR
-5
7
7
27
Steve Buchinsky West Plains, MO
West Plains, MO
-
All transfer
Finish
Start
#
Competitor
Hometown
+/-
1
2
07
Jessie Shearin West Plains, MO
West Plains, MO
1
2
3
88
Darren Fox Mtn. Grove, MO
Mtn. Grove, MO
1
3
4
79
Corey Lambert West Plains, MO
West Plains, MO
1
4
5
55
Chris Skinner Moody, MO
Moody, MO
1
5
6
N8
Nathan McQuitty West Plains, MO
West Plains, MO
1
6
7
17
Kylee Lasater Leachville, AR
Leachville, AR
1
7
1
56
Andy Collins West Plains, MO
West Plains, MO
-6
All transfer
Checkered Flag Truck Repair Super Late Models
Finish
Start
#
Competitor
Hometown
+/-
1
1
49
Justin Wells Aurora, MO
Aurora, MO
-
2
6
12
Scott Crigler Alton, MO
Alton, MO
4
3
5
5
Austin Vincent Moody, MO
Moody, MO
2
4
3
11M
Robby Moore Poplar Bluff, MO
Poplar Bluff, MO
-1
5
7
13S
Joey Smith West Plains, MO
West Plains, MO
2
6
9
11C
Sawyer Crigler Alton, MO
Alton, MO
3
7
4
13P
Ben Piper West Plains, MO
West Plains, MO
-3
8
2
21
DJ Burke West Plains, MO
West Plains, MO
-6
DNS
8
13
Chris Piper West Plains, MO
West Plains, MO
-
Finish
Start
#
Competitor
Hometown
+/-
1
1
5
Austin Vincent Moody, MO
Moody, MO
-
2
5
11M
Robby Moore Poplar Bluff, MO
Poplar Bluff, MO
3
3
2
49
Justin Wells Aurora, MO
Aurora, MO
-1
4
3
13S
Joey Smith West Plains, MO
West Plains, MO
-1
5
4
11C
Sawyer Crigler Alton, MO
Alton, MO
-1
All transfer
Finish
Start
#
Competitor
Hometown
+/-
1
4
12
Scott Crigler Alton, MO
Alton, MO
3
2
1
13P
Ben Piper West Plains, MO
West Plains, MO
-1
3
2
21
DJ Burke West Plains, MO
West Plains, MO
-1
4
3
13
Chris Piper West Plains, MO
West Plains, MO
-1
All transfer
Reliable Chevrolet IMCA Modified
Finish
Start
#
Competitor
Hometown
+/-
1
4
18W
Roger Witt Batesville, AR
Batesville, AR
3
2
10
9
Brint Hartwick Quitman, AR
Quitman, AR
8
3
9
9JR
Spencer Hartwick Quitman, AR
Quitman, AR
6
4
7
17W
Ashton Wilkey Batesville, AR
Batesville, AR
3
5
3
2SLY
Shane Kelley Imboden, AR
Imboden, AR
-2
6
1
X22M
Devin Murphy Myrtle, MO
Myrtle, MO
-5
7
11
7
Jesse Tackitt Viola, AR
Viola, AR
4
8
12
28K
Jamel Korkis Cave City, AR
Cave City, AR
4
9
2
93
Jay Croney West Plains, MO
West Plains, MO
-7
10
5
Z28
Randy Zimmerman Fort Scott, KS
Fort Scott, KS
-5
11
6
9T
Dustin Tiger West Plains, MO
West Plains, MO
-5
12
8
1
Chadd Avery Judsonia, AR
Judsonia, AR
-4
Finish
Start
#
Competitor
Hometown
+/-
1
4
17W
Ashton Wilkey Batesville, AR
Batesville, AR
3
2
5
9JR
Spencer Hartwick Quitman, AR
Quitman, AR
3
3
1
X22M
Devin Murphy Myrtle, MO
Myrtle, MO
-2
4
2
2SLY
Shane Kelley Imboden, AR
Imboden, AR
-2
5
3
Z28
Randy Zimmerman Fort Scott, KS
Fort Scott, KS
-2
6
6
7
Jesse Tackitt Viola, AR
Viola, AR
-
All transfer
Finish
Start
#
Competitor
Hometown
+/-
1
2
18W
Roger Witt Batesville, AR
Batesville, AR
1
2
3
9T
Dustin Tiger West Plains, MO
West Plains, MO
1
3
5
9
Brint Hartwick Quitman, AR
Quitman, AR
2
4
4
1
Chadd Avery Judsonia, AR
Judsonia, AR
-
5
1
93
Jay Croney West Plains, MO
West Plains, MO
-4
6
6
28K
Jamel Korkis Cave City, AR
Cave City, AR
-
All transfer
Mayfield Auto Repair POWRi Super Stocks
Finish
Start
#
Competitor
Hometown
+/-
1
1
11
Richie Tosh Salado, AR
Salado, AR
-
2
3
26M
Donnie Miller West Plains, MO
West Plains, MO
1
3
5
1B
Tim Brown Stoutland, MO
Stoutland, MO
2
4
6
40
Taylor Carver Lockesburg, AR
Lockesburg, AR
2
5
4
5
Austin Vincent Moody, MO
Moody, MO
-1
6
2
35
Johnny Coats Joplin, MO
Joplin, MO
-4
7
10
X2M
Carl Murphy Caulfield, MO
Caulfield, MO
3
8
8
12
Justin Jarrett Maynard, AR
Maynard, AR
-
9
14
60
Chuck Knight Fort Smith, AR
Fort Smith, AR
5
10
18
2H
Jon Hays Jonesboro, AR
Jonesboro, AR
8
11
11
18X
Jared Hays Jonesboro, AR
Jonesboro, AR
-
12
12
KEG1
Jeremy Russell Brookland, AR
Brookland, AR
-
13
15
T10
Matthew Seaman Marshall, AR
Marshall, AR
2
14
9
69
Brian Brown Purdy, MO
Purdy, MO
-5
15
7
22
Lonnie Duncan Alton, MO
Alton, MO
-8
16
17
1
Mark Tackitt Bakersfield, MO
Bakersfield, MO
1
17
13
G1
Tony Anglin Walnut Ridge, AR
Walnut Ridge, AR
-4
18
16
164
Michael Muskrat Stillwell, OK
Stillwell, OK
-2
19
21
68
Caleb Brown Purdy, MO
Purdy, MO
2
20
19
4G
Jesse Tackitt Viola, AR
Viola, AR
-1
21
22
94
Elmo Floyd Russellville, AR
Russellville, AR
1
22
20
3T
Ben Tackitt Viola, AR
Viola, AR
-2