The Final Night of Racing for the 2023 season is set for Saturday, September 2nd

As Bidenomics kicks into full force, we are forced to make changes. None of us like this as our freedoms are being jeopardized. We will have better racing days ahead.

For Legit Speedway's track photographers page please CLICK HERE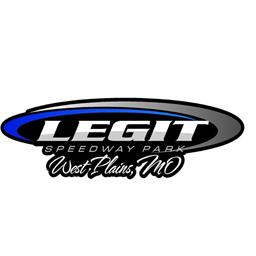 6/30/2022 - Legit Speedway Park
West Plains, MO
Firecracker Classic Night 1
Open Practice (All Classes), POWRi Super Stock Time Trials and Round 1 Heats.
Mayfield Auto Repair POWRi Super Stocks

25 entries
Full Event Information on MyRacePass
Mayfield Auto Repair POWRi Super Stocks
Finish
Start
#
Competitor
Hometown
+/-
1
1
26M
Donnie Miller West Plains, MO
West Plains, MO
-
2
2
5
Austin Vincent Moody, MO
Moody, MO
-
3
3
60
Chuck Knight Fort Smith, AR
Fort Smith, AR
-
4
4
G1
Tony Anglin Walnut Ridge, AR
Walnut Ridge, AR
-
5
6
4G
Jesse Tackitt Viola, AR
Viola, AR
1
DNS
5
B9
Bob Johnson Eugene, OR
Eugene, OR
-
DNS
7
45N
Houston Null Brighton, TN
Brighton, TN
-
Finish
Start
#
Competitor
Hometown
+/-
1
1
35
Johnny Coats Joplin, MO
Joplin, MO
-
2
5
40
Taylor Carver Lockesburg, AR
Lockesburg, AR
3
3
2
1B
Tim Brown Stoutland, MO
Stoutland, MO
-1
4
3
12
Justin Jarrett Maynard, AR
Maynard, AR
-1
5
4
2H
Jon Hays Jonesboro, AR
Jonesboro, AR
-1
6
6
T10
Matthew Seaman Marshall, AR
Marshall, AR
-
Finish
Start
#
Competitor
Hometown
+/-
1
4
22
Lonnie Duncan Alton, MO
Alton, MO
3
2
6
1
Mark Tackitt Bakersfield, MO
Bakersfield, MO
4
3
1
164
Michael Muskrat Stillwell, OK
Stillwell, OK
-2
4
3
KEG1
Jeremy Russell Brookland, AR
Brookland, AR
-1
5
5
94
Elmo Floyd Russellville, AR
Russellville, AR
-
DNS
2
88
Jason Winkle Senath, MO
Senath, MO
-
Finish
Start
#
Competitor
Hometown
+/-
1
1
11
Richie Tosh Salado, AR
Salado, AR
-
2
2
X2M
Carl Murphy Caulfield, MO
Caulfield, MO
-
3
3
18X
Jared Hays Jonesboro, AR
Jonesboro, AR
-
4
4
69
Brian Brown Purdy, MO
Purdy, MO
-
5
5
68
Caleb Brown Purdy, MO
Purdy, MO
-
6
6
3T
Ben Tackitt Viola, AR
Viola, AR
-
Finish
Start
#
Competitor
Hometown
Time
1
10
26M
Donnie Miller West Plains, MO
West Plains, MO
16.776
2
4
35
Johnny Coats Joplin, MO
Joplin, MO
16.776
3
2
164
Michael Muskrat Stillwell, OK
Stillwell, OK
16.810
4
16
11
Richie Tosh Salado, AR
Salado, AR
16.838
5
20
5
Austin Vincent Moody, MO
Moody, MO
16.879
6
5
1B
Tim Brown Stoutland, MO
Stoutland, MO
16.925
7
1
88
Jason Winkle Senath, MO
Senath, MO
16.929
8
7
X2M
Carl Murphy Caulfield, MO
Caulfield, MO
16.939
9
14
60
Chuck Knight Fort Smith, AR
Fort Smith, AR
16.939
10
3
12
Justin Jarrett Maynard, AR
Maynard, AR
16.962
11
11
KEG1
Jeremy Russell Brookland, AR
Brookland, AR
17.002
12
19
18X
Jared Hays Jonesboro, AR
Jonesboro, AR
17.028
13
22
G1
Tony Anglin Walnut Ridge, AR
Walnut Ridge, AR
17.035
14
12
2H
Jon Hays Jonesboro, AR
Jonesboro, AR
17.046
15
9
22
Lonnie Duncan Alton, MO
Alton, MO
17.069
16
17
69
Brian Brown Purdy, MO
Purdy, MO
17.096
17
6
B9
Bob Johnson Eugene, OR
Eugene, OR
17.274
18
21
40
Taylor Carver Lockesburg, AR
Lockesburg, AR
17.312
19
13
94
Elmo Floyd Russellville, AR
Russellville, AR
17.380
20
25
68
Caleb Brown Purdy, MO
Purdy, MO
17.652
21
23
4G
Jesse Tackitt Viola, AR
Viola, AR
17.676
22
24
T10
Matthew Seaman Marshall, AR
Marshall, AR
17.811
23
8
1
Mark Tackitt Bakersfield, MO
Bakersfield, MO
18.014
24
15
3T
Ben Tackitt Viola, AR
Viola, AR
18.042
25
18
45N
Houston Null Brighton, TN
Brighton, TN
03.173
All transfer