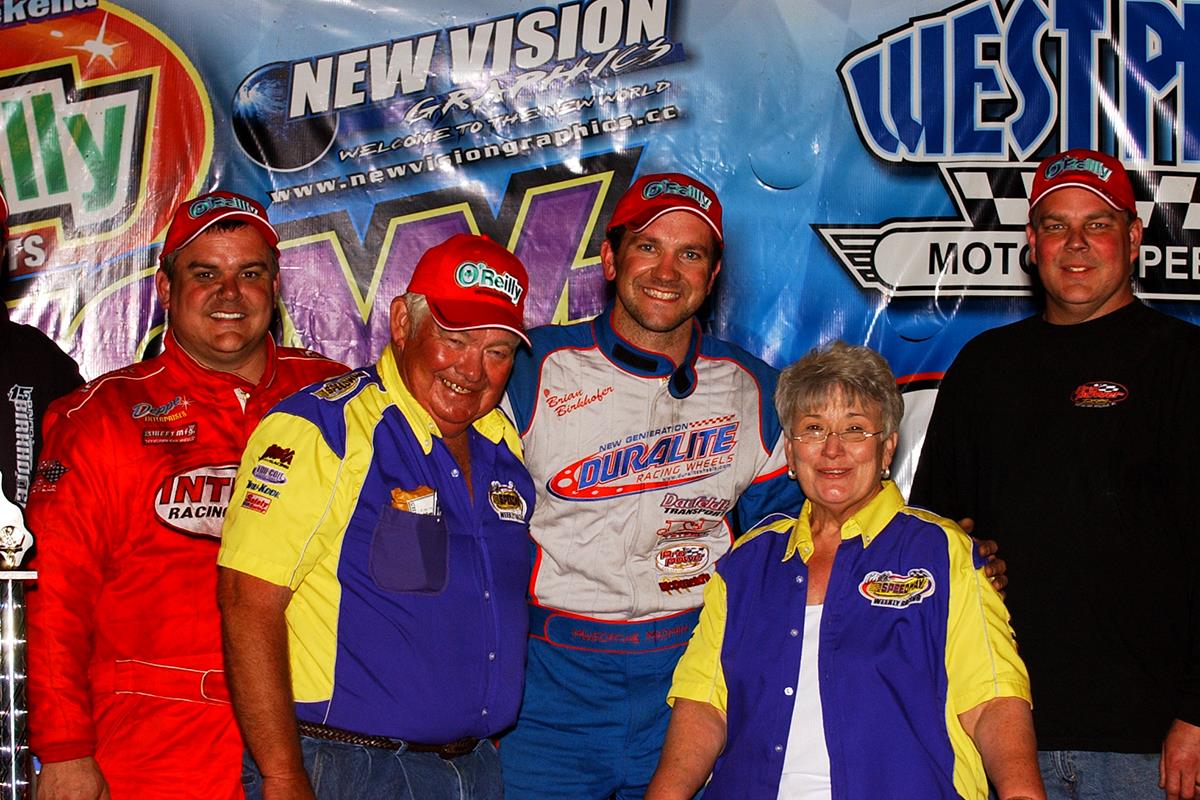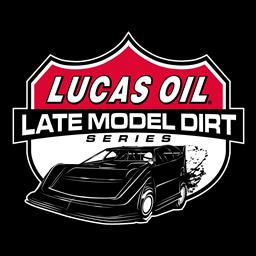 5/23/2009
Lucas Oil Late Model Dirt Series
---
Brian Birkhofer Wins First Career Show-Me 100 in Dominating Fashion at West Plains Motor Speedway
WEST PLAINS, MO (May 23, 2009) – Brian Birkhofer of Muscatine, IA lapped up to the seventh place finishing car as he dominated the 17th Annual O'Reilly Auto Parts Show-Me 100 Presented by DART Machinery. He pocketed $40,000 on Saturday Night at West Plains Motor Speedway in the Lucas Oil Late Model Dirt Series sanctioned event. Jimmy Mars of Menomonie, WI used a late race caution to close behind Birkhofer in the waning laps, but Birkhofer was just too strong as he and Mars' MB Custom Chassis scored a one-two finish. Five-time Show-Me 100 winner Scott Bloomquist of Mooresburg, TN finished third followed by Jimmy Owens of Newport, TN and Don O'Neal of Martinsville, IN who completed the top five.
Polesitter Jimmy Owens got a good start on fellow front row starter Scott Bloomquist on the initial start of the race, but a multi-car pileup on the opening lap brought out a red-flag as former race winner Terry Phillips left the race on a hook ending his night. On the restart, Owens won the race heading into turn number one with Bloomquist, Mars, Birkhofer, who started fifth and Jeremy Payne.
Owens quickly opened up a three top four car length lead over Bloomquist in the early going of the race as a battle for third was taking place between Mars and Birkhofer. Those two drivers would race side-by-side for four consecutive laps crossing the start-finish line dead even for position.
A caution came out for Brian Shirley with nine laps scored; Owens saw the lead he had built up over Bloomquist now gone. On the restart, there was a three-car pile-up in turn two which once again slowed the racing action. Owens led the field to the restart as both Mars and Birkhofer got by Bloomquist a lap into the restart.
Mars and Birkhofer dueled side-by- side as they closed on Owens who was still out in front, but his lead turned precarious as both Mars and Birkhofer were on the prowl. Birkhofer settled into second by lap 16 and then four laps later he grabbed the lead away from Owens on the 19th circuit.
Birkhofer then stretched out his lead over Owens as he started to pick-up the tail end of the field by lap 25, Mars moved into second passing Owens. Birkhofer was setting a torrid pace and with 30 laps down he held almost a straightaway lead over Mars, Owens, Bloomquist and O'Neal. With no caution flags to clear lapped traffic Birkhofer maneuvered his way around several cars from lap30-40 putting multiple cars in between him and second place running Mars.
As the race approached the half-way mark, Birkhofer had lapped up to the ninth position car as he was totally running away with the race at this point. Birkhofer had built a half-a-lap lead over Mars, who was having trouble negotiating traffic as he could not gain any ground on Birkhofer as "Birky" put two more of the top ten a lap down as there were only seven cars now on the lead lap.
The final caution of the race on lap 71 for a slowing Jeremy Payne was the break that Mars was looking for as with Lucas Oil Late Model Dirt Series rules all lapped cars would have to restart on the tail end of the field. Birkhofer was left with a clear track, but it also allowed Mars, Bloomquist, Owens, O'Neal, Ray Cook and Earl Pearson Jr. the only cars still on the lead lap to restart behind him in single-file order.
With 29 laps to go after the restart Birkhofer set sail again as he exploded out to a quick three car length lead over Mars and Bloomquist. Birkhofer, with his blistering pace closed quickly on the back of the field one more time with less than 20 laps remaining in the race.
With Birkhofer having to deal with cars directly in front of him, Mars took the opportunity to close the gap on Birkhofer. Mars was able to chase down Birkhofer with less than five laps to go, but passing Birkhofer would be another story as Mars was unable to get close enough to Birkhofer to try a last lap pass. Birkhofer crossed the finish line first to add another crown jewel event win to his impressive resume'.
In the Lucas Oil Victory Lane, Birkhofer was overcome with emotion in describing his win. He was starting for the seventh time in his career. "I just can't believe it, I have been wanting to win this race for a long time, the Gibsons' are a great family, they treat everybody so well and they have a great race track here, we just haven't had the luck in the past here, but this car was just a dream to drive," said the 37-year-old driver who earned his ninth career Lucas Oil Late Model Dirt Series victory.
"Man it's so great to have Jimmy (Mars) run second, this MB Custom Chassis we put about six laps on it in practice for the Diamond Nationals at Wheatland and this is the first time we have raced it and I can't imagine having a better race car than what we had tonight, the other car we've been running was good, but we thought we would bring this one out for the Show-Me and it turned out to be a very good decision," said Birkhofer.
"It feels great to win one of these crown jewel events like this, I want to thank Jeff Roby, Jimmy and Chris Mars, Bill Schlieper of Pro Power Engines, everyone at Lucas Oil for the series they have, it's an honor to come here and win this race and having Lucas Oil sanction it for the first time, thanks to them for helping the Gibson's promote this race," said the winner who has now won $70,000 in first place prize in the last three weeks racing in the State of Missouri has he earned $30,000 for winning the SuperClean Diamond Nationals at Lucas Oil Speedway back on May 9th.
Birkhofer's MB Custom Chassis Monte Carlo SS has a Pro Power Engine and is sponsored by J&J Steel, S&S Concrete, Daufeldt Transport, Etchenberger Trucking, Asi Racewear, 34Raceway.com, Integra Racing Shocks, Port City Racing, Hoosier Tires, McDonald's of the Quad Cities, VP Racing Fuels, McFarland Pain Clinic, Muscatine Tire and Wheel and Baileigh Industrial.
Mars crossed the line second in his Deppe Enterprises/Pro Power Engines/MB Custom Malibu with Bloomquist coming third in his Miller Brothers Coal/Vic Hill Racing Engines/Bloomquist Race Cars Monte Carlo SS. Completing the top five was Owens who led the first 18 laps in the Mike Reece/Reece Monuments/Bloomquist Race Cars Ford Fusion and O'Neal in the Racing United Marketing/Jay Dickens Racing Engines/MasterSbilt Monte Carlo SS.
Rounding out the top ten were Ray Cook, Earl Pearson Jr., Chris Madden, Billy Moyer and Brandon Kinzer.
To find out more about the Lucas Oil Late Model Dirt Series, log on to www.lucasdirt.com or call the series office at (951) 532-2503.
Lucas Oil Late Model Dirt Series
Race Summary
Saturday Night, May 22, 2009
17th Annual O'Reilly Show-Me 100 Presented by DART Machinery
West Plains Motor Speedway in West Plains, MO
PRC Fast Time: Jimmy Owens/15.575 seconds
Hawk Brake First Heat (20 Laps-Top 3 Advance): Jimmy Owens, Steve Casebolt, Ray Cook, Earl Pearson Jr., John Blankenship, Josh McGuire, Bill Frye, Billy Moyer Jr., Howard Willis, Jason Utter
Hawk Brake Second Heat (20 Laps-Top 3 Advance): Jeremy Payne, Don O'Neal, Brian Shirley, Jeff Floyd, James Ward, Justin Wells, Mark Douglas, Mitchell Byars, Michael Walker, Raymond Merrill, Jared Landers
AFCO Racing Products Third Heat (20 Laps-Top 3 Advance): Brian Birkhofer, Brad Neat, Dan Schlieper, Jason Hughes, Jack Sullivan, Will Vaught, Matt Miller, Skip Arp, Tony Knowles, Stacy Caldwell, Chuck Laney
Tiger Rear Ends Fourth Heat (20 Laps-Top 3 Advance): Scott Bloomquist, Wendell Wallace, Terry Phillips, Dale McDowell, Chris Wall, Mike Marlar, Jason Cliburn, Michael Murphree, Kyle Beard, Ray Moore, Dewaine Hottinger
AFCO Racing Products Fifth Heat (20 Laps-Top 3 Advance): Jimmy Mars, Chris Madden, Jeep VanWormer, Dane Dacus, Brad Looney, Eric Jacobsen, David Breazeale, Gary Stolba, Chad Wheeler, Wade Byers, Joey Baroni
AFCO Racing Products Sixth Heat (20 Laps-Top 3 Advance): Brandon Kinzer, Billy Moyer, Scott James, Eric Turner, Shanon Buckingham, Freddy Smith, Tony Jackson Jr., Chris Simpson, Jon Kirby, Brandon McCormick, Gregg Hill
Manufacturer's Dash for Cash (10 Laps): Don O'Neal, Ray Cook, Billy Moyer, Michael Murphree, Wendell Wallace, Josh McGuire, Steve Casebolt, Dan Schlieper, Jimmy Owens, Jeremy Payne, Dale McDowell
Mason Racin' Rebel Shock Dyno First B-Main (20 Laps- Top 2 Advance): Earl Pearson Jr., John Blankenship, Jack Sullivan, Jason Hughes, James Ward, Jeff Floyd, Josh McGuire, Will Vaught, Justin Wells, Billy Moyer Jr., Tony Knowles, Mark Douglas, Bill Frye, Mitchell Byars, Ron McQuerry, Michael Walker, Jason Utter, Matt Miller-DNS, Skip Arp-DNS, Howard Willis-DNS, Raymond Merrill-DNS, Stacy Caldwell-DNS, Jared Landers-DNS, Chuck Laney-DNS
Wiles Drive Shafts Second B-Main (20 Laps- Top 2 Advance): Dale McDowell, Chris Wall, Shanon Buckingham, Eric Turner, Mike Marlar, Eric Jacobsen, Freddy Smith, Jason Cliburn, Chad Wheeler, David Breazeale, Michael Murphree, Gary Stolba, Chris Simpson, Ray Moore, Dewaine Hottinger, Jon Kirby, Tony Jackson Jr., Wade Byars, Gregg Hill, Joey Baroni, Kyle Beard, Dane Dacus, Brad Looney, Brandon McCormick
17th Annual O'Reilly Show-Me 100 Presented by DA RT Machinery Feature Finish (100 Laps): Brian Birkhofer, Jimmy Mars, Scott Bloomquist, Jimmy Owens, Don O'Neal, Ray Cook, Earl Pearson, Jr., Chris Madden, Billy Moyer, Brandon Kinzer, Brad Neat, Dan Schlieper, Jeep VanWormer, Scott James, Dale McDowell, John Blankenship, Eric Jacobsen, Josh McGuire, David Breazeale, Jeremy Payne, Wendell Wallace, Chris Wall, Brian Shirley, Steve Casebolt, Terry Phillips
Race Statistics
Entries: 66
Caution Flags: Brian Shirley (Lap 9); Eric Jacobsen, Chris Wall, Biran Shirley (Lap 10); Jeremy Payne (Lap 71)
Lap Leaders: Jimmy Owens (Start-18); Brian Birkhofer (19-21); Jimmy Mars (22); Brian Birkhofer (23-100)
Lucas Oil Late Model Dirt Series Provisionals: Josh McGuire, Eric Jacobsen
Emergency Provisional: David Breazeale
PBM/Erson Cams Hard Charger of the Race: Earl Pearson Jr. (Started 19 and finished 7 – advanced 12 positions)
Allstar Performance Performer of the Race: Brian Birkhofer
K&N Filters Clean Pass of the Race: Brian Birkhofer
Quarter Master Rookie of the Race: Jeep VanWormer
Comp Cams Engine Builder of the Race: Pro Power Racing Engines
Time of the Race: 51 minutes 35 seconds
---
Submitted By: Jeremy Shields
Back to News